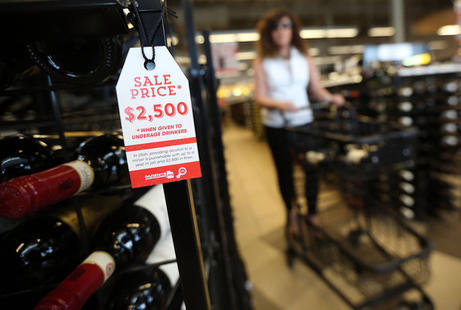 HOLLADAY — With the Fourth of July approaching, various liquor bottles across the state were marked with big, red sale tags Thursday.
The sale price: $2,500.
That's what it will cost if the buyer is caught giving alcohol to minors. In addition to the fine, the crime is punishable by up to a year in jail, the tags state.
The "sale prices" are meant to draw double takes from alcohol purchasers and remind them of the consequences they could face if they supply underage drinkers.
The tags will remain scattered throughout Utah liquor stores through the summer, a time when schools are out and kids have more free time and less parental supervision.
The tags are a part of a campaign to remind adults to fight underage drinking, not facilitate it.
The initiative stems from a partnership between the Utah Department of Alcoholic Beverage Control, the Division of Substance Abuse and Mental Health, the Utah Highway Patrol and ParentsEmpowered.org, a campaign to stop underage drinking.
Officials from those organizations gathered at the State Liquor Store in Holladay on Thursday to remind adults — especially parents — of that message.
"A substantial number of kids that do drink underage get their alcohol from adults, and we certainly want to send a message that it's not only against the law, but it can be expensive," said Art Brown, co-chairman of ParentsEmpowered.org. "But more importantly, it can really impact their developing brains and push them along the road to addiction, so we really want to prevent alcohol from falling into kids' hands."
Teens who begin drinking before the age of 15 have a 45 percent chance of alcohol addiction, rather than a 7 percent chance if they wait to drink alcohol until age 21, Brown said. Underage drinking damages learning, memory, decision-making and can affect children's potential in life, he said.
"It can really send them down the wrong path, and it's really hard for them to stop," Brown said. "There just isn't any good that comes to kids from drinking underage."
North Ogden resident Susannah Burt is a mother of four daughters, two of whom are ages 12 and 15. She said even though she's had clear conversations with her children about the dangers of alcohol, underage drinking is still a real concern for her.
"I worry more about some of the other kids," Burt said, which is why she thinks it's important parents are reminded to have those hard conversations with their kids as summer starts.
Val Dunaway, Utah Department of Alcoholic Beverage Control regional manager, said liquor store clerks will be particularly diligent through July and August to catch not only minors attempting to buy alcohol, but also adults redistributing.
"We are always on guard," Dunaway said. "We watch for minors on a daily basis, but the summer months are the bigger months for us."
The Fourth of July is approaching New Year's Eve as one of the most notorious holidays for DUIs, said UHP Sgt. Todd Royce.
More juveniles are also busted for underage drinking during summer months, Royce said, and if they jump behind the wheel with any measurable amount of alcohol in their system, they could lose their driver's license, among other consequences.
"Parents are the first line of defense," Royce said. "By the time it gets to me out there on the roadway, it's too late."
Some parents aren't as confident as they should be about how they influence their children, he said.
"A lot of people think children never listen, but they do," Royce said. "So set a good example, and talk to them about the dangers of alcohol."
By Katie McKellar, Deseret News
See full article here.